Crazy Birds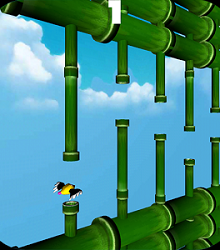 App Name / Title :  Crazy Birds -3D
Developer Name : gamecuongbui
Type of App : Game
Brief description of App :  Gravity control : Guide a bird through bamboo obstacle poles.
App tested on Mobile type :  Huawei P8 lite
Crazy Birds – 3D
After reading the short note from the developer of this game, I thought he was joking when he said the Highest score recorded for first time users was only 3, because of the level of difficulty. Only three I asked myself ? someone had to be joking. Well, it's true.
There are a lot of games that are on the market where getting to be a competent player does not take you that long. Simply because games are developed with different things in mind. Graphics are usually the #1 attraction to any game. #2 ease of use . #3 Skill. In the case of Crazy Birds everything has been balanced very well, but #3 is Top of the agenda.
Yes, Skill. I tried a few times and became a bit frustrated but I really believe this is where the Challenge lies. A cool mind, lightning like reflexes and finger –eye co-ordination and synchronization must be at it's Optimum for you to succeed at this game. I must really commend the developer , it's really a great challenge.  I am however convinced that the game will play slightly better on a tablet, but I will have to check that out.
Another point that I picked up is that as the pathway changes, the background stays the same. A change of colour should bring a small new element to the game. Well, everything said, it's a really 'Interesting Game'and I will encourage everybody to give it try and see ' How Well can you Do'
I can hold up my head and say 'I reached 4', which for me is a real achievement.