Hill Climb Racing 2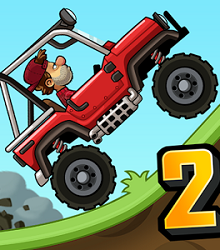 App Name / Title :  Hill Climb Racing 2
Developer Name : fingersoft.
Type of App : Game
Brief description of App :  Off road racing.
App tested on Mobile type :  Huawei P8 lite
Hill Climb Racing 2
Sequel to the most addictive and entertaining physics based driving game ever! And it's free!
My first attempt at the game was hilarious as I was still trying to figure out the controls and the way to balance the vehicle and stop it from flipping over. Once that was sorted it really went well. Collecting your points and bonuses are awesome as well as upgrading different parts on the vehicle such as Tyres, shocks, coil springs after every race is also great. The idea of racing against the rest of the World gives you the feeling of taking part in the DAKAR Rally.  The different venues is really also a plus point. Control is everything in this game, and as soon as that can be mastered, the game can really become addictive.
Playing the game in Off-line mode is something of a type of Time trial, where you get to travel as far as you can go without tipping over. You collect points in the form of coins and there is also fuel canisters along the way. There is also a feature that allows you to change your looks as the driver, which is quite a unique one. You can go from the don't care Sam to the macho off-road racer.
Kids who's parents own 4X4 vehicles should have a real blast with this game. Although I urge any grown up to take a TRY. It really requires a little bit of skill and will certainly get you hooked.