Stars Saga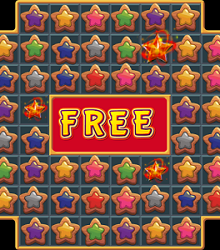 I found the game interesting and requires a quick eye – hand  co-ordination. Colors are vibrant and should be quite a hit with everyone  of all ages. As I was playing the game, It became all more interesting and addictive . The game could be more informative for kids of younger ages by providing a brief set of rule or instructions, the game could include characters that fit the theme of the game i.e A Bunny, A Little Girl\Boy and let them pop up ,showing what the games objective is, or even present little hints here and there. To encourage players of younger ages to carry on playing, the game could introduce a snazzy line when the kids clear a lot of stars at one time.  Also what I found with previous games is that the device on which game is played also makes a difference. For instance, graphics, slide options and speeds make any game more interesting. Progressing through the game takes a while to the next level, if this could be shortened to allow quicker progress to next levels, this could keep the player playing longer periods.
The ads are placed in the right place, where there is no interference while playing although different people might find it distracting. The game should give players  options to make a profile, and  be able to be informed of other players high score, thus making it more competitive for the players .
Overall, this is a fun game to play, although there is room for improvement.